There is a lot of luck involved. No one can be an expert in every subject.
— Zachary Newkirk, a Perkins Coie associate, commenting on his record winning streak on "Jeopardy!" In early 2020, he won four games in a row, and then the show stopped filming thanks to COVID-19. The show resumed taping sometime in August, but thanks to travel restrictions, Newkirk was unable to appear. When he returned to play in December 2020, Newkirk clinched the title of the show's longest reigning champion, all thanks to the coronavirus crisis. In all, Newkirk won six games, collecting a total of $124,871.
---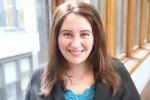 Staci Zaretsky is a senior editor at Above the Law, where she's worked since 2011. She'd love to hear from you, so please feel free to email her with any tips, questions, comments, or critiques. You can follow her on Twitter or connect with her on LinkedIn.