"Dear President Trump," wrote House impeachment manager Rep. Jamie Raskin, "As you are aware, the United States House of Representatives has approved an article of impeachment against you for incitement of insurrection."
Is Trump aware of this? Social media has been blissfully quiet of late, but he did manage to hire competent lawyers to represent him at next week's hearing. Then fire them and hire a whole new set of lawyers who filed that gonzo response to the House's brief. So, yes, let's assume he got the memo.
"Two days ago, you filed an Answer in which you denied many factual allegations set forth in the article of impeachment. You have thus attempted to put critical facts at issue notwithstanding the clear and overwhelming evidence of your constitutional offense," Rep. Raskin continued. "In light of your disputing these factual allegations, I write to invite you to provide testimony under oath, either before or during the Senate impeachment trial, concerning your conduct on January 6, 2021. We would propose that you provide your testimony (of course including cross-examination) as early as Monday, February 8, 2021, and not later than Thursday, February 11, 2021."
Despite the former president's history of lying under oath, Trump spox Jason Miller insists that he could easily handle congress. "The case is straightforward enough to where I think President Trump could come up and do his own defense and knock this thing out in about fifteen minutes," he told Newsmax, before conceding "But no, I do not expect the 45th President to be in Washington next week."
As Raskin pointed out, sitting presidents who had obligations beyond getting in the full 18 holes managed to find time to testify to Congress. And while the letter contains no threat to compel Trump's appearance, it did note that, "If you decline this invitation, we reserve any and all rights, including the right to establish at trial that your refusal to testify supports a strong adverse inference regarding your actions (and inaction) on January 6, 2021."
Because impeachment is a political procedure, and there are no Miranda rights in Congress. The senators aren't Article III jurors obligated to hear the case without bias or prejudgment; they're Article I representatives of the American people, and they're entitled to take any inference they like, as well as go on television and swear their undying loyalty to the former president.
But the best defense is a good offense, so Trump's lawyers Bruce Castor, Jr. and David Schoen came out swinging… wildly.
"We are in receipt of your latest publicity stunt," they huffed indignantly. "As you certainly know, there is no such thing as a negative inference in this unconstitutional proceeding."
How wise of the Framers to have delineated the rules of a proceeding which does not even exist!
"Your letter only confirms what is known to everyone: you cannot prove your allegations against the 45th President of the United States, who is now a private citizen," they continued, concluding that "The use of our Constitution to bring a purported impeachment proceeding is much too serious to try to play these games."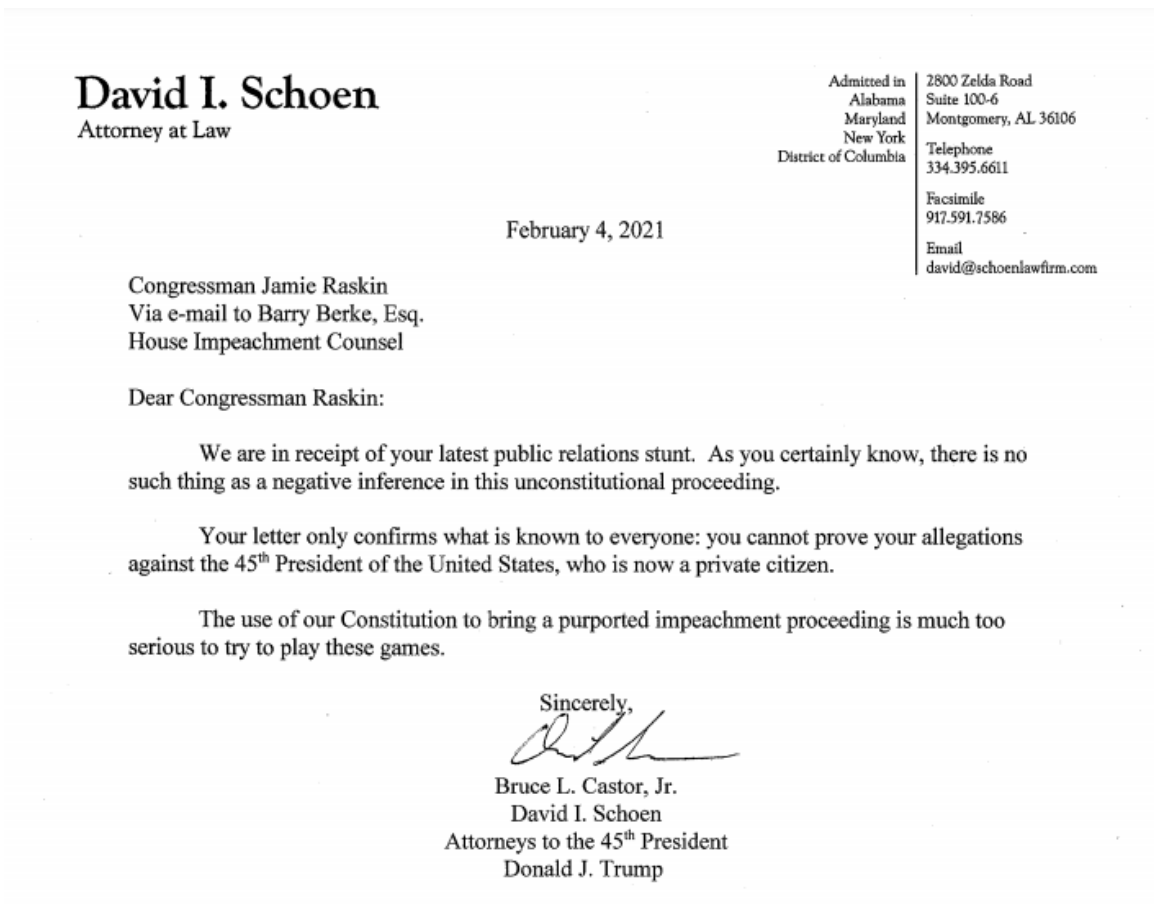 Note the adherence to the Trumpland rule that their client shall be referred to as "the 45th President," because "former" is such an ugly word. Also, why is the signature line center-justified? Well, at least they managed to spell United States right this time.
If the law and the facts are against you, pound the table.
---
Elizabeth Dye lives in Baltimore where she writes about law and politics.
Medical Disclaimer:
The information provided in these blog posts is intended for general informational and educational purposes only. It is not a substitute for professional medical advice, diagnosis, or treatment. Always seek the advice of your physician or other qualified healthcare provider with any questions you may have regarding a medical condition. The use of any information provided in these blog posts is solely at your own risk. The authors and the website do not recommend or endorse any specific products, treatments, or procedures mentioned. Reliance on any information in these blog posts is solely at your own discretion.