[ad_1]

TriLabs Manufacturing provides effective white label products to brands of all sizes using a combination of proprietary recipes and pharmaceutical grade quality control. Glenn Reynolds, CEO of TriLabs, has been manufacturing and packaging hemp CBD products since founding his first business in 2014. Two years ago, he applied that expertise to TriLabs Manufacturing, an operation based in Redlands, California. They have scaled up from a couple doing their own thing crafting quality products to a large facility in Southern California, but their basic philosophy remains the same. Despite the size of the order or the client, they remain ethical and transparent without compromise.
CEO Glenn Reynolds said, "Having been in the industry as long as we have now, we try to advise customers one way or the other based on pitfalls we've seen in the past to help them avoid those pitfalls and navigate their way through the industry the best that we can."
The company recently moved to a larger facility which allows them to serve all clients at a reasonable price. Some of the recipes in their formulations have been in use for years, perfected by personal use by Glenn. Glenn and his wife have also over the years perfected base recipes for gummies and pet treats. Their family recipes help to solve common problems faced by fledgling cannabis brands, including heat degradation, achieving desired flavors, and consistency.
TriLabs' base recipes are formulated by a scientist who has worked with many nutraceutical companies. This formulator built all of the base lotions and cosmetics available through the white label company. With these formulations, the team puts together a unique product for each client to fit their goals. They can easily manipulate their base recipes to feature a unique flavoring or to meet specific goals.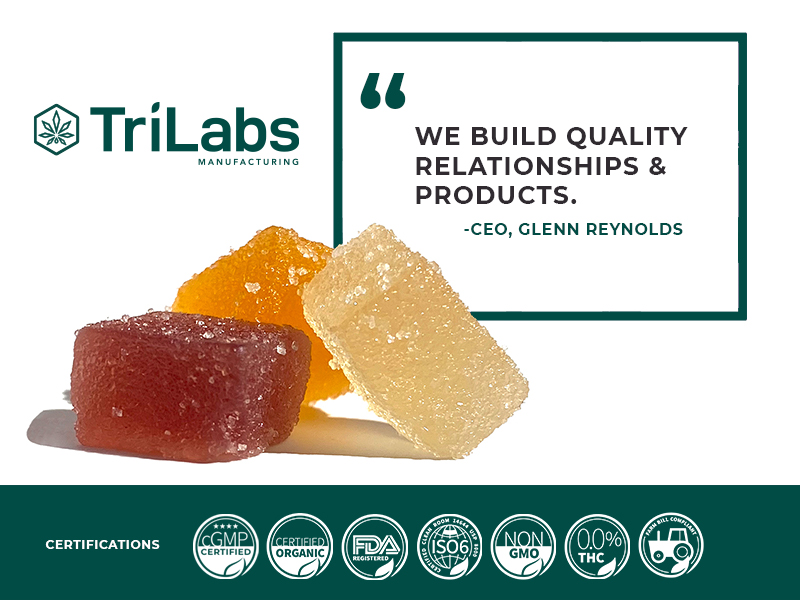 Adam Bushey, Vice President of Sales, told Ganjapreneur that customer care is one of TriLabs' top priorities. They apply their industry knowledge to ensure that client investments in TriLabs products are as successful as possible. When a client is looking to take on a full R&D product or to reverse engineer something from the ground up, sometimes they are guided to work with a base formulation to save money. This — helping to mitigate costs that aren't always necessary to bring a successful product to market — is just one example of how TriLabs considers its clients above its bottom line.
"You can still specialize without starting from the ground up and avoid a lot of that time delay and upfront cost, we tailor our approach to each project as it comes up and we find the best fit for that customer," Bushey said.
At one time, Glenn explored the idea of vertical integration but he ultimately decided it isn't right for the company. Over the years Glenn has owned and operated cultivation operations, working with a variety of extraction processes, and has acquired more than 12 years of manufacturing experience. However, staying solely focused on formulation and manufacturing allows the company to perfect products and processes to the most finite degree.
This continued goal of perfection is what makes TriLabs a company that gets effective tinctures, topicals, gummies, pet treats, and more to their clients on their timeline. Instead of focusing on farming or extraction, they build quality relationships with a small handful of extractors with various specialties. If someone is looking to create a CBN-focused tincture or topical made with organic hemp, TriLabs can source that from one of their heavily-vetted extraction companies.
Any ingredient that enters the TriLabs inventory is analyzed by a third-party lab against COAs for cannabinoid content and microbials. Even flavorings and non-cannabis products are inspected before ever being included in a formulation. Each ingredient is traceable and cataloged using three lines of code to trace each ingredient back to its specific batch, the products it is used for, and the expiration dates. Before formulating there is a taste test on individual ingredients since every extraction comes with a somewhat unique set of flavonoids. In every production line, there are a series of reliable steps in place so that the team can stay one step ahead of quality control. These protocols also create a full line of traceability down the manufacturing line.
"We only do things the right way, we pride ourselves on that," said Reynolds. "We're very ethically driven, very morality driven, and very dedicated to everything that we do. If we tell you we're going to do something, we're going to do it. If it's something we can't do we're not going to tell you we can and take your money. The bottom line of it is how we do business and what the drive is behind that."
To provide their wide range of clients with superior service, TriLabs split them into three categories. For the small business owners who are setting out to start a small CBD-side business, the team offers low MOQs, low customization costs, drop shipping, and more services that can otherwise overwhelm a new business owner. If they bring on an established brand that requires larger quantities per order, TriLabs takes a more consultative approach — this helps the team identify areas where their new client could expand their business using the TriLabs product line and expertise.
The final type of client that the team has experience in serving doesn't require consultation but is more focused on how to get products shipped at a low bottom line. For these brands, TriLabs delivers the lowest bottom line while keeping an eye on where the company could innovate or build strategic partnerships. Before taking on a client of any size, the team will lay out a realistic timeline to complete their goals. On the rare occasion when there is a delay, they call the client immediately to keep them informed.
TriLabs recently moved into a facility three times the size of their former space in San Bernardino. The updated facility features new machines that will take production to the next level. They have transitioned from making 50k gummies daily to 1.2M gummies per day. They can also formulate 18k to 22k tinctures and 12k topicals daily. Their updated cookie depositor will take the daily output from 4,000 to 150k pet treats produced daily. Batch runs on the depositor can be customized to add supplements, which will better serve pet treat clients. Their site will also continue operating on the smaller scale machinery to serve brands of any size. This setup allows them to easily take a smaller brand to a larger capacity by simply moving production to a new room.
The main goal at TriLabs Manufacturing is to create the best CBD products possible for their clients. Many large white label companies will not work with fledgling companies, but TriLabs has built out a facility that not only serves small businesses but is fully ready to help them scale up. They also get consistent feedback from all clients that their products are the most effective white label tinctures, topicals, gummies, and pet treats they've encountered. This success is attributed to a finite focus on workflow to develop procedures and formulations that cannot be duplicated, and deep respect for their clients.
[ad_2]

Source link
Medical Disclaimer:
The information provided in these blog posts is intended for general informational and educational purposes only. It is not a substitute for professional medical advice, diagnosis, or treatment. Always seek the advice of your physician or other qualified healthcare provider with any questions you may have regarding a medical condition. The use of any information provided in these blog posts is solely at your own risk. The authors and the website do not recommend or endorse any specific products, treatments, or procedures mentioned. Reliance on any information in these blog posts is solely at your own discretion.