Over the past several years, CBD products have taken the world by storm, and it seems like every week there is a new brand with a new type of infused product on the market. But amid all the excitement about CBD's therapeutic properties as a wellness supplement, the CBD landscape is severely under-regulated which can often translate into risks for the consumer. In a market so new, how can anyone be sure which CBD products are the safest and most effective? Enter: Remedy Review.
Remedy Review is a publication that was built with the goal of helping consumers navigate the ever-changing and fast-growing CBD industry. The online resource was founded in 2018 and features honest reviews of real CBD products. Before publishing, each review is proofed by medical advisors to ensure accuracy. The company aims to help consumers who are new to CBD overcome the learning curve, as co-founder Marc Lewis said the goal is to "help people feel better and buy smarter."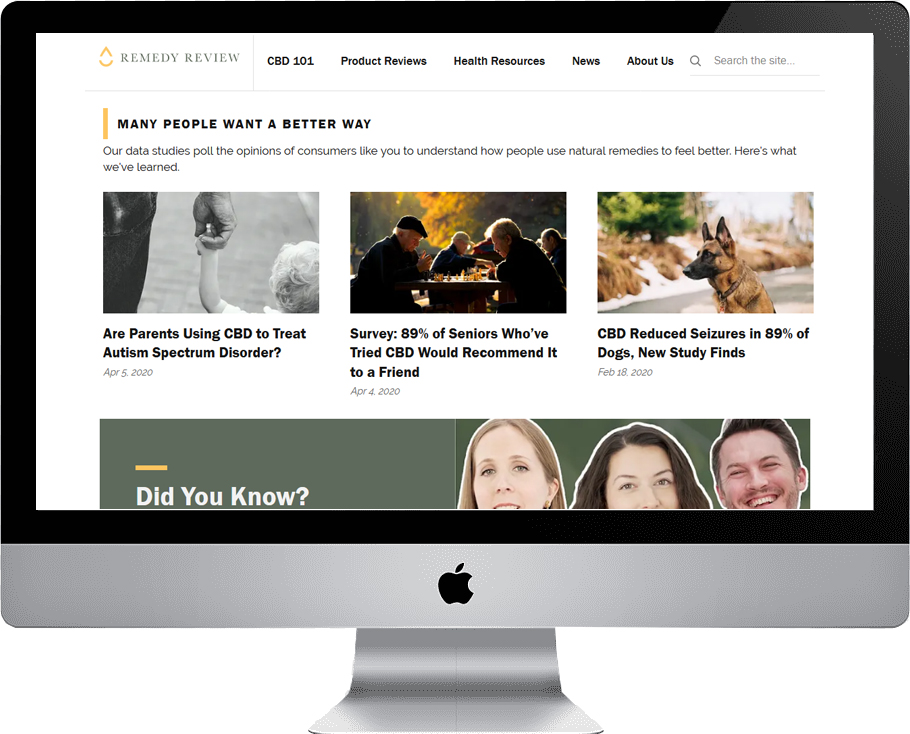 The team behind Remedy Review has plenty of experience in guiding consumers in making smart choices. Prior to launching the publication, the three-person team worked on educational & honest review platforms in other consumer-focused industries. After watching the explosion of products entering the hemp sector it was clear that their consumer-serving expertise was needed. After the brand became more familiar with the industry, products, and consumers it was clear that keeping up with CBD was a daily learning process. And that is what the Remedy Review team continues to do.
"Millions of people are looking for alternative remedies for pain, sleep and anxiety. We just hope to help them shop smart in a confusing space."  — Marc Lewis, co-founder of Remedy Review
While only three people maintain the day-to-day operations at the publication, there is also a team of writers, nutritionists, and medical doctors on hand to weigh in on reports and help create content. Each advisor was handpicked to cover a wide range of specialties so that the team would always have a specialist to filter specific questions through. As for where they get the products to review, that can vary: sometimes a company will send their line directly to the team for review, and oftentimes readers will suggest specific products or brands they'd like to see subjected to the Remedy Review standards.
Once a product is received, it is sent to a third-party lab to be tested for potency, accuracy, and additives. Before publishing, every review featured on the site is medically reviewed for accuracy by specialized doctors and/or nutritionists. Since the primary concern of Remedy Review is the consumer, they are one of the few CBD-focused sites that will publish negative reviews when a product does not live up to their standards. Their goal is not to take down companies, but to hold them accountable: the publication wants to divert people to brands that they can trust while calling out the bad actors and encouraging better business practices. The team also works with widely distributed health publications like Health to evangelize possible benefits of well-made CBD products.
This multifaceted scientific approach is unique to Remedy Review and through their endeavors, the team has become immersed in the world of supplements and natural wellness. In the future, the site could expand to cover more varieties of products in this category. Lewis hopes to see the publication serve as a place for someone to learn anything they need to know about natural health in one user-friendly, no-nonsense platform. Natural health is often a personal journey to achieving balance in the body, and Remedy Review is focused on helping those who have chosen to embark on that journey.