The Indiana state House has overwhelmingly voted to reverse a smokable hemp ban being challenged in federal court.
A bill approved 69-28 last week would remove references to "smokable hemp" from the state's 2019 law setting up hemp regulations. Those regulations banned the production and sale of hemp flower products.
The bill also repeals a law that requires that a hemp bud or a hemp flower be sold only to a processor licensed in Indiana.
The measure now heads to the Indiana Senate.
The Midwest Hemp Council and several businesses have challenged Indiana's smokable hemp ban; the matter is pending in a federal court.  California and New York are currently considering smokable hemp bans.
Smokable hemp is one of the fastest-growing sectors in the hemp industry.
Analytics firm Nielsen Global Connect predicts that by 2025, the market cold to reach $300 million to $400 million, representing roughly 5% of the potential $6 billion to $7 billion hemp-derived CBD consumer products category.
Read more about the U.S. smokable hemp market in this free report, "Sector Snapshot: Opportunities & Challenges in Smokable Hemp."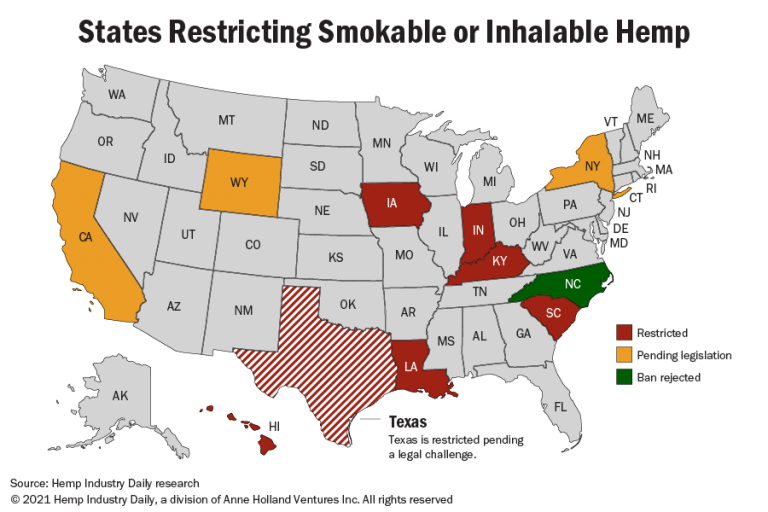 Medical Disclaimer:
The information provided in these blog posts is intended for general informational and educational purposes only. It is not a substitute for professional medical advice, diagnosis, or treatment. Always seek the advice of your physician or other qualified healthcare provider with any questions you may have regarding a medical condition. The use of any information provided in these blog posts is solely at your own risk. The authors and the website do not recommend or endorse any specific products, treatments, or procedures mentioned. Reliance on any information in these blog posts is solely at your own discretion.