When serial entrepreneur Vithurs Thiru had the idea for what would eventually become Blessed CBD, he was 21 years old and already had six solid years in the digital marketing industry behind him. Turning a profit using his finely tuned digital marketing skills had become his groove but, with Blessed CBD, Vithurs ultimately sought to create a brand with meaning and ethos, and which stemmed from a deep personal importance to himself.
Back in 2017, Vithurs' mother was on the phone to a relative, sharing with them how bothersome her aching joints were. From the other end of the line, she heard about CBD for the very first time; a derivative of the cannabis plant, it was said to have incredible natural therapeutic effect. After hanging up the phone, she asked her son for more information on the subject, and so Vithurs was set on a research path into the CBD market, both internationally and in the United Kingdom.
"In my teenage years, I'd always been told that weed was bad — it had this really negative stigma around it, and my parents had made their stance crystal clear. With my experience, though, I had this fascination for the cannabis plant to begin with, especially for its ability to calm the mind, and when my mother mentioned CBD to me, that has the psychoactive compounds of cannabis completely taken out of the equation, this fascination was kind of switched back on again." — Vithurs Thiru, Founder of Blessed CBD
What he found after approximately 12 months of solid, in-depth research was a seemingly untapped potential market share in the UK. While there were a range of high-quality suppliers of CBD products across the Atlantic, things back home were still sorely lacking. Vithurs entered into partnerships with a range of farms in the US and Europe to operate as a highly involved and quality-driven CBD producer out of his home country. Blessed CBD was founded in 2018, a year after cannabidiol had been made legal in the United Kingdom, and was a near-instant hit. It didn't take long for his new venture to receive awards and recognition from a variety of well-known publications, showcasing its strong product line.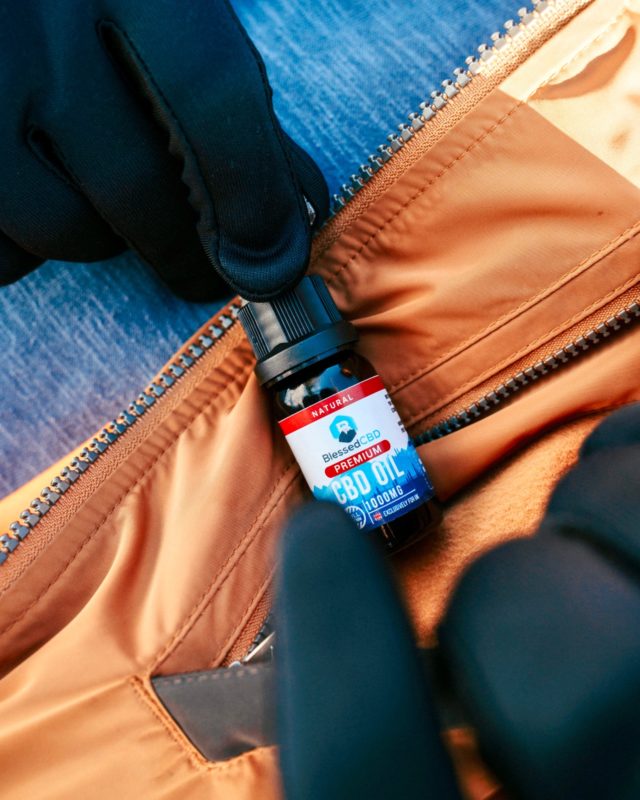 "We started making good sales very quickly; the feedback took longer, though. But in about three months' time, we began receiving emails and reviews back from our customers. And that's when it really dawned on me: Blessed CBD was helping people. Really helping them."
Emails started pouring into Vithurs' inbox, some with long-form accounts of how the CBD products had helped improve everything from arthritis to anxiety. The mental health feedback became the penny-dropping moment for the founder. About a year and a half earlier, his father had committed suicide, after a long and silent struggle with depression. Vithurs had been estranged from his father for several years prior to this, and so his passing came as a substantial and heartbreaking shock.
"There were so many things I didn't get to say to him — and that's regret I have to live with and work through today. But also the fact that he was alone with his pain; that he didn't speak up, and that no one reached out to help him."
When the product reviews came in, Vithurs made the connection between his father's passing and the customers his products were now helping. It was the shift that made him focus all his attention and energy to making Blessed CBD a success; to help as many people as possible. Now he hadn't just founded this company out of a life-long fascination for its key selling ingredient; his venture was helping people through the kind of mental health struggles his father had lived with, and that Vithurs himself had experienced after his death.
"It really changed the game for me. I was invested in Blessed CBD before making that connection, but this was such a lightbulb moment. It switched the ethos on for me, in a completely new way, and now I'm determined to make this a brand that's going to make a lasting impression. A brand that helps improve people's lives."
There's no doubt the CBD market is a growing and profitable space to be in. In their first year of operations, Blessed CBD garnered over £5million in sales. For Vithurs, though, the company is so much more than his biggest entrepreneurial success — it's become a drive on a different level, because of his own personal experiences and because he sees how it's possible to balance serious profits with doing good.
"The thing is, if you find a way of helping people, the money will come. It'll come quicker and for longer, too – and you'll be making a positive impact. Being able to combine profits with helping people is one of the best things I've experienced as an entrepreneur to date. It's also amazing to have talented and globally recognized athletes such as Israel Adesanya as part of the Blessed CBD family. It truly is wonderful."
https://www.youtube.com/watch?v=PqJxOuIDQjo